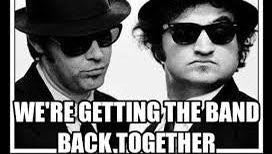 Saturday Tasting Menu
Regular price
Sale price
$125.00
---
Multicourse Tasting Menu
Big Mikes Little Red Store 732-291-2750
101 Navesink Ave, Atlantic Highlands, NJ, 07716
Saturday November 5th 5:30 and 8:00pm
Metz and I have nurtured our friendship through the years in the heat and battle of the kitchens. We have in a sense grown together in the industry we love so much. Im so proud of what he is doing and I'm fortunate to have him in my life and consider him a dear friend. This event is basically liek getting the band back together to play some of the greatest hits in their lives. Perhaps even introduce some new material as we go along! For all these reasons you wont want to miss this tasting menu. Full details are being hammered out as none of us like to commit to ingredients too far in advance. So instead let me speak to the style of the evenings dinner. 
This will be set up as a multi dish, multi course event. It will probably be done in anywhere between 4-5 courses but will include 8 dishes. The initial thoughts are to lay it out like so and please keep in mind this is just for imagination purposes. 
Bread course to open
2 different appetizers 1 by each chef
2 different mid courses perhaps a pasta and a fish 1 by each chef
2 main courses perhaps a meat and fish
dessert to finish
all for a total of 8 dishes
Once we get closer to the event I'll post the exact menu here. Since this is a small one off event allergies and dietary restrictions will not be guaranteed. Please keep that in mind. We will do what we are able but thats but all we are willing to promise this time around. 
The event does have limited seating just a total of 64 seats across two seating and quite frankly I don't think thats all that much. If you want tickets and for the time you desire make sure you act quickly. All you have to do is trust us to make awesome food!
The price of the ticket is per person and the event is byob. The ticket doesn't however include gratuity so please make sure to take care of your lovely servers. 
Thanks again and we are really looking forward to cooking for you all!