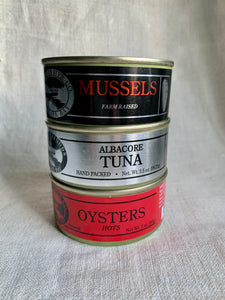 Ekone
Regular price
Sale price
$10.00
---
A welcome American addition to the tin game and to our stores. Ekone has actually been around for a little bit but were small producers and really were only doing their work for themselves out in Washington. Since their humble beginnings they have grown with the demand for their delicious products. They really made their mark on the smoked oyster game but have expanded to include mussels, tuna and others. We are super excited to have 3 of their products in the shop.
Ekone original smoked oysters- The OG, the product that started it all. Delicious oysters smoked to perfection. Add these to seafood chowders and stews to add that smoked seafood goodness.
Ekone smoked habanero oysters- this tin in particular is wildly sought after and sometimes goes out of stock. Smoke and spice with everything nice ive heard one person say. Basically if you love seafood, love spice and smoke this is for you.
Ekone lemon pepper smoked oyster-The classic smoked oyster with the added zing of lemon pepper. Great chopped into a variety of salads including whole grain salads like faro.
Ekone Albacore tuna with lemon- Just like regular the smoked variety this tuna is dolphin safe from the waters of the Pacific. Great for classic tuna preparations when you aren't looking to add a little lemony goodness to the smoke! 
Ekone smoked tuna- Their albacore tuna is caught locally in the pacific waters using only dolphin safe methods. They care and you can taste it in the tin. Great for mixing it up from other regular tuna
Ekone smoked mussels- There is just something about smoke and mussels that goes hand in hand. If you don't believe me try this tin and i can say "told ya so" 
Ekone smoked octopus- We are really happy to have this product in house as its speaks to what we firmly believe in. Giant octopus are a by catch from the highly regulated alaskan cod fishing industry. These giants live along the deep cold waters on the continental shelf. This tin is perfect to add to a ceviche or make tostadas from or simply eat it out of the can!