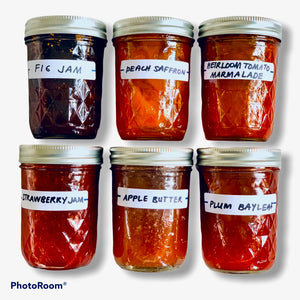 Jammin Package
Regular price
Sale price
$59.00
---
We often times get asked, "what jams should we get to have a lot of options?" Its a great question because as many of you know by now our jams have multiple uses. They run the gauntlet of simple PB&J to cheese boards, and even glazing meats! We thought it would be helpful to create a 6 pack that would last someone a little while to experiment, and be a catalyst for their next ordering pleasure. The package my change once or twice a year but this is really meant to be a mix of favorites and things you may not know you love! Below is how we are going to start things off!
Banana Jam- A new favorite of mine. This unique jam tastes like the richest ripe bananas you will ever taste. A hint of that tropical taste but when it comes down to it its all banana! This could be your new favorite.
Strawberry Elderflower Jam- Old reliable done right. Using amazing last of the season Pell Farms strawberries this all American jam was made specifically for these packages.
Heirloom Tomato Marmalade- This has truly been a fan favorite. We have gotten so many great responses with what folks are doing with this. Slathered on a good burger, served on a meat board, and simply on good bread. It all works
Peach Saffron- Once again we have taken Local peaches and made a french style jam. Which basically means fruit cooked in its own syrup. However this syrup happens to be laden with Spanish saffron. Its the jam you didn't know you loved until you tried it!
Apple Butter- Fall, she is upon us and honestly there aren't to many things that scream fall more than apples. Apple butter in particular is one of those things we keep reaching for this time of year for our morning oatmeal. But using it on a pork chop is just as nice!
Quince Jam- The homage to Portugal in jam form. This is inspired by the flavors of Portugal we have come to love. You honestly may not find a better jam that pairs with cheeses than this.  
---